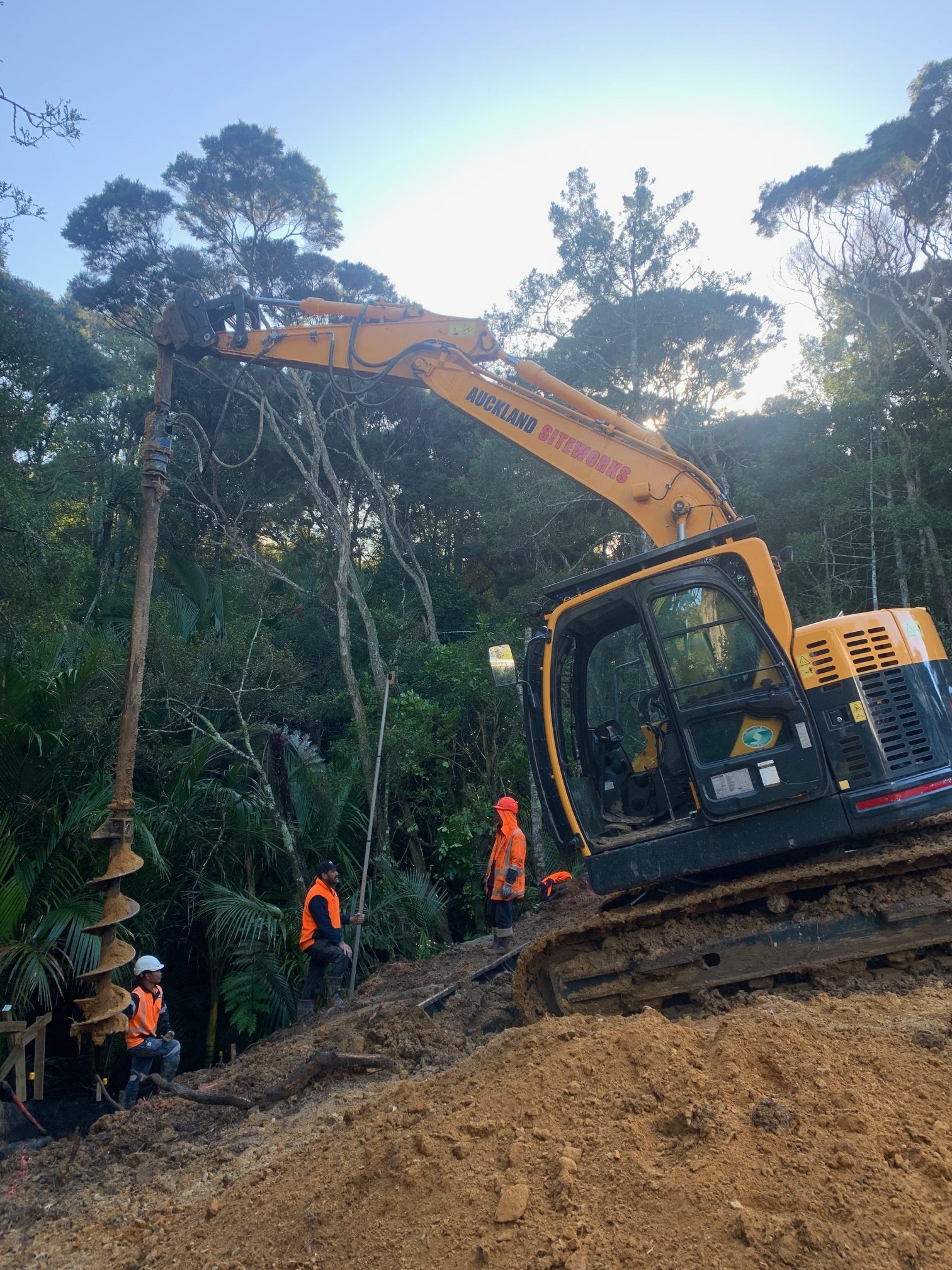 Leading Earthmoving and Earthworks Contractors in Auckland
Are you looking for experienced and reliable earthmoving and earthworks contractors in Auckland? We can help at Auckland Siteworks, as we offer a full range of services, and we will deliver a standard of quality that will exceed your expectations.
As full-service excavators and earth movers, we work on all sizes of projects from our base here in Warkworth, completing projects throughout the Auckland region. This includes projects for homeowners, new build projects, large residential construction projects, and commercial construction projects. Our customers also include civil contractors working on various civil projects.
When you hire us, you will get a team that is qualified and experienced. We work safely, we'll communicate with you regularly, and we'll make sure your project gets completed on time and within budget.
We also have all the necessary equipment and vehicles to complete your project, including diggers, excavators in a range of sizes, tip trucks, compactors, bulldozers, and more. All our vehicles and equipment are modern and well-maintained to ensure reliability.
To find out more and to get a quote from the leading earthmoving and earthworks contractors in Auckland, get in touch with us today.
Earthworks & Earthmoving
At Auckland Siteworks, we provide a full range of earthmoving and earthworks services to residential, commercial, and civil contractors throughout Auckland. We also deliver projects for homeowners as we work on all sizes of jobs. If you want earth moved or a site reshaped or cleared, we are the team you can depend on.
Our expertise covers all aspects of earthworks and earthmoving projects, including jobs where there are access challenges and other complexities. Examples of our expertise include:
Land clearing
Removal of large rocks, boulders, and concrete
Trench digging
Footings
Retaining walls
Landscaping projects
Pool excavations
Compacting services
Site preparation
House Cuts & Foundations
From digging foundations to reducing areas to levelling areas, we've got the equipment, knowledge, and expertise to complete your job to the highest possible standard. We can work in tight spaces, and we'll make sure the project is completed according to your requirements.
Our experience includes under house cut excavations, foundation projects where we can look after everything on your site up to the floor slab, and precision site cuts for all projects, including commercial builds, residential builds, swimming pools, or anything else.
To get a quote for your project, or to find out more about the services we provide, please get in touch.
Drilling & Piling
If you need drilling services, we have the equipment and skills to drill to up to 10 metres in depth. A range of diameters is available, and our drilling services are suitable for water wells, ground source heating projects, stormwater disposal, investigative projects, and more.
We can also help if you need piling services. This includes driven piles if you need a quick, cost-effective, or temporary piling solution. We also offer a range of other piling services, from large structures that require bored reinforced concrete piles to projects involving drilled and concrete piles (timber or steel), soldier piles, palisade piles, or underpinning solutions.
Please get in touch to get a quote for your drilling or piling requirements.